40,000 Verizon Workers Strike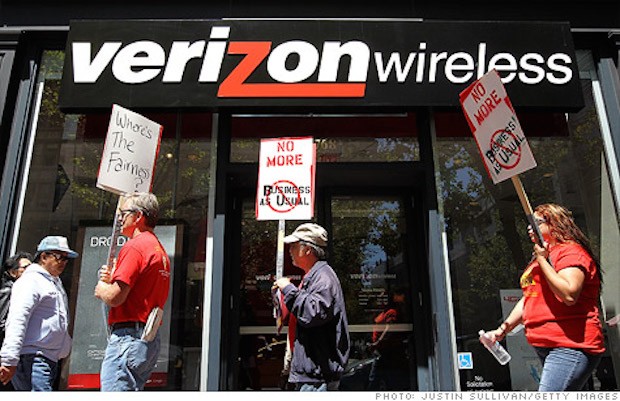 40,000 unionized workers employed by telecommunications giant Verizon have gone on strike. The walkout officially began at six a.m. on Wednesday.
The work-stoppage had been brewing for months as both the Communications Workers of America and the International Brotherhood of Electrical Workers have been working without company contracts since last August.
The unions object to numerous Verizon policies including the outsourcing of jobs, short-term relocation transfers of employees – what the union calls "family-busting transfers" – and cuts to employee benefits despite record profits. NPR reporter Joel Rose further elaborated on the workers' reasons for striking, telling NPR's Newscast that:
"The striking employees mostly work in Verizon's wireline business — landline phone, video and Internet — on the East Coast. The company says it's offering a 6 percent raise, but needs to make what it calls 'critical changes to its legacy contracts' to reduce healthcare costs and retirement benefits."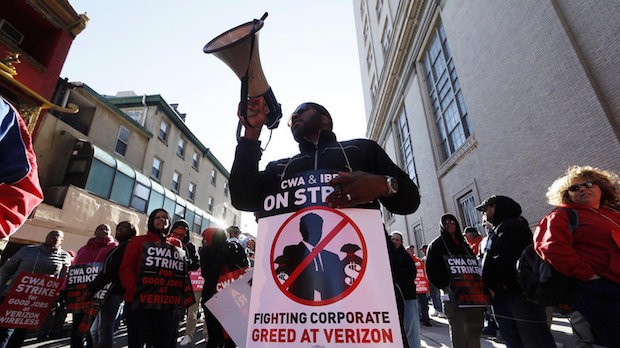 For their part, Verizon has claimed that the unions are "ignoring today's digital reality" and that they were willing to mediate with union leaders but were rebuffed. The company also stated that they've had strike-preparedness preparations in place for the better part of a year. The company's statement read, in part:
"Verizon's strike readiness teams have been preparing for a strike since early 2015… We look at every area of the business, from network operations to call center management, to ensure we have the tools, the skills and the people ready to step-in for this union leadership driven job action… Since last spring, many of these employees took part in extensive network training sessions at a high-tech, custom designed business continuity training center in Northern Virginia, created especially for this potential event. They know our first priority is maintaining services for our customers and they have taken on this challenge with pride."