Dad's Facebook Post About Taking His Baby on Vacation Is Going Viral
Advertisement
But this isn't Coyne's first claim to fame. He first went viral back in December 2015, when he
wrote a post
about becoming a dad for the first time. Now, he gives us more dad insight when it comes to vacationing. He begins by focusing on his friends' reactions to their trip. "One or two people were a bit judgey about the idea of taking a 6-month old away. 'So, you're taking him on holiday?' Yeah. 'Abroad?' Yeah. 'Somewhere hot??' Yeah. 'On an aeroplane (
sic
)?? …By which point I was tempted to answer: 'No, me and Lyns will be going on the plane, but we thought we'd get Charlie there by driving him to Dover and firing him out of a f*cking cannon.'" The 41-year-old then goes into "other stuff" he learned while on vacation for the first time with his baby. "Don't take an expensive pram (stroller) on a flight," he warns. "The moment you check in and that pushchair disappears behind that rubber curtain it is collected by two WWF wrestlers who smash it against a wall for half an hour." Coyne also describes how comically small changing tables in airplane bathrooms are, how people on your plane will give you dirty looks, and how sandy beaches are a bad idea. However, Coyne says that it's all worth it. "For all its pissy little challenges, to spend time together, away from our newly destroyed home, was incredibly special," he writes. "I will always remember Charlie's face as he curled his toes in the sand for the first time. ..(
sic
) His delight at being pushed around a hotel pool on the back of an inflatable crocodile. ..And, his fascination as we sat on a bench, hand-feeding a sparrow some crisps, overlooking the deep blue of the mediterranean (
sic
) sea." Coyne
told
Us Weekly
that he hopes to dispel myths about parenthood in general and share with the world that no matter the hassle, spending time with your child is always worth it.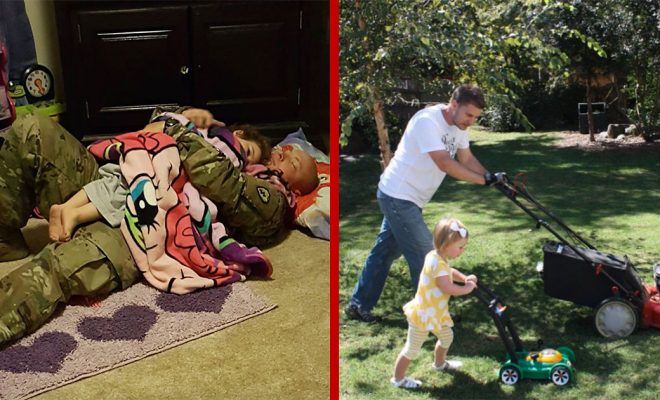 13 Dads Who Remind Us What Parenting Is All About
Being a dad is like having a full time job. As a parent, you have to be ready at all times to make sure that your child is happy and healthy. A few dad compare "dad work" to being a babysitter — but it is not — it's called being a parent.…
click here to read more
Advertisement
Taking children on vacation is always a hassle, but as one man discovered, it's also rewarding. First-time dad Matt Coyne recently blogged about his vacation with his six-month-old son Charlie and wife Lyndsey. The post has now been liked over 40,000 times and shared over 15,000 and it's easy to see why. In it, Coyne hilariously recounts the struggles, frustrations, and good times he had while on the trip.