Demi Lovato and Nick Jonas Pull North Carolina Shows
Entertainment
| |
Advertisement
However, they have since decided against performing in the state as a result of House Bill 2 (HB2) legislation, known as the 'Bathroom Bill,' which restricts the public toilets transgenders can use. "After much thought and deliberation, Nick and I have decided to cancel our shows in Raleigh and Charlotte," Lovato writes in a statement issued to officials at media organization GLAAD. "One of our goals for the Honda Civic Tour: Future Now has always been to create an atmosphere where every single attendee feels equal, included, and accepted for who they are." Lovato, who has tirelessly spoken out in support of full acceptance for members of the LGBT (lesbian, gay, bisexual and transgender) community, goes on to express her sadness at the headline-grabbing legislation. "North Carolina's discriminatory HB2 law is extremely disappointing, and it takes away some of the LGBT community's most basic rights and protections," she continues. "But we will not allow this to stop us from continuing to make progress for equality and acceptance. "We know the cancellation of these shows is disappointing to our fans, but we trust that you will stand united with us against this hateful law." She ended the note with the social media hashtag, "#RepealHB2". Lovato and Jonas are the latest musicians to take a stand against North Carolina's discriminatory law. Bruce Springsteen was the
first big name
to blast the legislation and pull his show in Greensboro earlier this month, while Ringo Starr also followed suit, axing a number of summer gigs in the state. Pearl Jam and Boston have since also scrapped concerts in the area, while others, like Cyndi Lauper and Father John Misty, have vowed to turn their upcoming events into protest shows to raise money for charity. Lovato and Jonas' Future Now Tour kicks off on June 24 in Sunrise, Florida.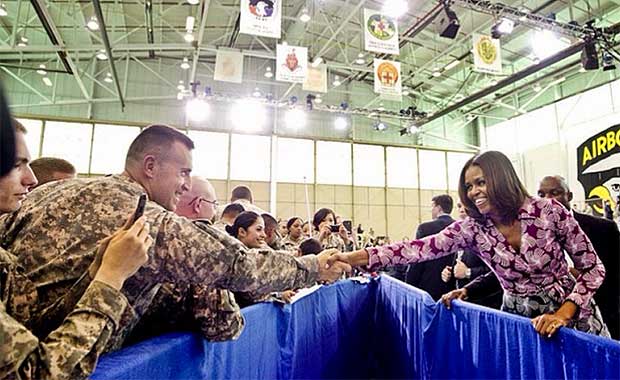 From Tradition To Vacation, See How Some Stars Celebrate Thanksgiving
Each year, millions set out over the road, through the air, or on a boat (probably) to visit their loved ones to celebrate all they are thankful for. Our favorite stars and celebrities, while the cynical might think they're thankful for only their bloated bank accounts and lavish lifestyles, really…
click here to read more
Advertisement
Demi Lovato and Nick Jonas will no longer be taking their joint tour to North Carolina in light of the state's controversial new anti-LGBT law. The pop pals had been billed to make stops in the cities of Charlotte and Raleigh on June 30 and July 2, respectively, as part of their Future Now trek.