This Dog-Walker Sends Perfectly Posed Photos to Keep Owners up to Date With Pet's Adventures
Advertisement
"He loves these dogs and treats them all so well," shared Reddit user
seanlee2013
. "We get pictures every day of their adventures." Redditor seanlee2013 explained, "different dogs have different 'daycare' schedules. Some dogs are only 2-3 days a week, others are 5-6, some do boarding etc etc (
sic
). Sometimes I get pictures with 15 or so dogs, all lined up. It's amazing." "He's a great trainer, and a great person," bragged seanlee2013. "We're very lucky to have him!" Iles really makes sure to shake up the adventures! He takes the dogs sightseeing. And lets them soak up the view after a long hike. He takes the pack of dogs for a little joy ride some times. And even lets them have a good gossip session on the patio! "Whose the best boy!?" "I am." "No, I am!" Say cheese! "It warms my heart. My job with the dogs takes a lot of patience, hard work, devotion, understanding and lots of love," Iles shared on
Reddit
. "Gratefully, I feel I was born with a connection to animals and it just comes naturally. I am lucky to have found my calling. Happy tears!" Check out more about WalkPRO LLC and Iles on his
Facebook
page and
website
.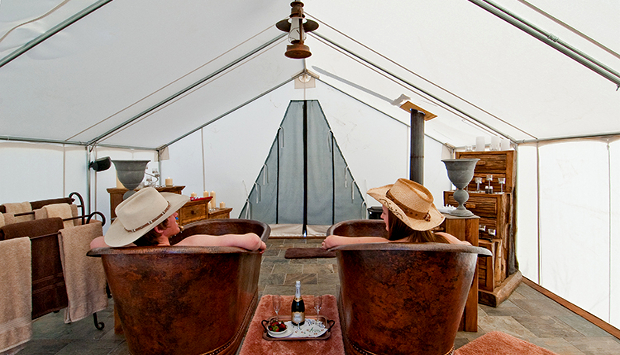 Gone Glamping! Images That Will Inspire You to Go Glamping This Summer
Camping usually involves bugs, tents, and the possibility of bears, but there's a new trend when it comes to camping this summer. Glamping is the glamorous way of bonding with nature, combining style and luxury with camping. Similar to regular camping, glamping allows you to feel at home while being…
click here to read more
Advertisement
Talk about squad goals! Chris Iles, a dog-walker from California, has taken his dog-walking services to the next level. Iles, who owns and operates WalkPRO LLC, trains, walks, and takes his dogs out for adventures daily. Iles makes sure to check in with the dog's parents, sending them perfectly posed photos of their adventures.