Gwen Stefani Is in Love With Blake Shelton
Entertainment
| |
Advertisement
The Voice
in October, just two months after announcing her split from Gavin Rossdale, her husband of 13 years.
The new couple has been open about its budding romance ever since, and Stefani and Shelton made their red carpet debut together at the Vanity Fair Oscars after-party in February. She has since admitted the song "Make Me Like You," from her new solo album
This Is What the Truth Feels Like,
was written about her country star beau, who divorced Miranda Lambert in July, and now Stefani has confirmed she is in love again. The mother-of-three makes the admission in a new interview with
Vanity Fair
, after gushing about how her new romance helped her write songs about happiness and positivity following her shock divorce. "I think my spiritual journey is to have had these weird relationships and write music that people can somehow relate to," she explained. "I've never had a record that is almost all about being happy and in love." Picking up on her declaration, contributing editor Lisa Robinson asked, "You're in love now?" To which Gwen replied, "Yeah, for sure. I don't really want to go into that relationship, and God knows what's going to happen. But I feel like I'm in an amazing songwriting place; instead of being closed off, I'm thinking about positivity and how I can do something creative. I'm just doing what I want to do. It's so incredible to be in that zone. I'm always looking for the next song, and now I don't have to be insecure or write about heartache." Stefani's confidence took a big hit after discovering Bush rocker Rossdale had allegedly been having an affair with their children's nanny in February, 2015, and she recently admitted she was desperate to save her marriage, despite the betrayal. "It was devastating," she told PrideSource. "I didn't know what to do. It was a real big secret. I tried everything to fix it." And while she has stopped short of going into full details about the reported affair, Gwen has insisted that if she ever decides to write a memoir, readers will definitely be in for a good tale. "If I could, I would just tell you everything, and you would just be in shock," she teased in an interview with the
New York Times
. "It's a really good, juicy story."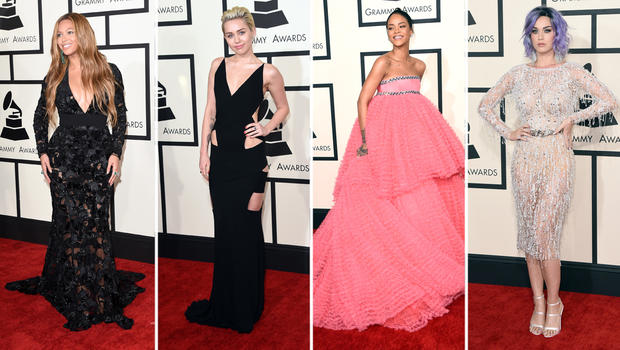 Must-See 2015 Grammy Awards Red Carpet Looks
The 2016 Grammy Awards will be held on February 15th and there is much anticipation to see what the biggest artists will be wearing. In the midst of award season, here is a recap of the must-see looks from the 2015 Grammy Awards!
click here to read more
Advertisement
Gwen Stefani has officially declared she is "in love" with boyfriend Blake Shelton. The No Doubt frontwoman began dating her fellow coach on