Iggy Azalea Postpones Wedding to Tour
Entertainment
| |
Advertisement
She shared the news of her delayed nuptials during a radio interview with Los Angeles DJ Ryan Seacrest on Friday, admitting that although postponing her big day is "a bit sucky," it's for the best. "I'm planning my wedding, actually moved my wedding 'cause I have to tour so my wedding plans are changing," she explained. "It was going to happen at the end of the year, but now I have to go to work so we'll probably have to wait until the end of the next basketball season to do that (get married). So that kind of is a bit sucky, but it's alright." Azalea went on to heap praise on Los Angeles Lakers star Young for taking the news in his stride. "(He's) really awesome and great and totally understanding and does not mind," she smiled. However, the Australian star, who became engaged last June, at Young's 30th birthday party, claims the athlete has been teasing her about enjoying his extra year as a single man. "He's like, 'I can be a bachelor for longer,'" she laughed. "He's really milking the whole thing. So he's really happy. Any time he wants to, like, go out with the boys, he's like, 'This is my last summer being a bachelor!' So he likes that. He can milk it for longer with me, so he's excited." Azalea also admitted she chose to prioritize her tour over her wedding because she wants to make sure her music is still fresh, unlike last year, when she axed plans to hit the road in support of her 2014 album, The New Classic. "My last tour I canceled; I had a lot going on," she said. "I just felt like the last time, I got to a point where I was kind of burnt out on the music by the time I got around to touring 'cause my album had been out for over a year. I don't want to have a risk of that happening again." The 25-year-old released "Team," her first single in almost a year, on Friday, and she is scheduled to unveil Digital Distortion in June. "It would be really nice to tour, you know, August, September, October, and have that music be fresh and have me still be in love with it and performing it and everybody having a good time," she continued. Her comments emerge a day after her interview with Britain's
Schon!
magazine was released. In the article, she explained she felt the need to cancel The Great Escape Tour last year because she was experiencing a "psychotic breakdown." She also hinted at already feeling overwhelmed by her busy schedule for 2016, as she tried to juggle her personal and professional lives. "It's too much stuff!" she exclaimed. "I've got to a have a wedding and go on a f**king honeymoon and… put on an arena tour, all across the whole world."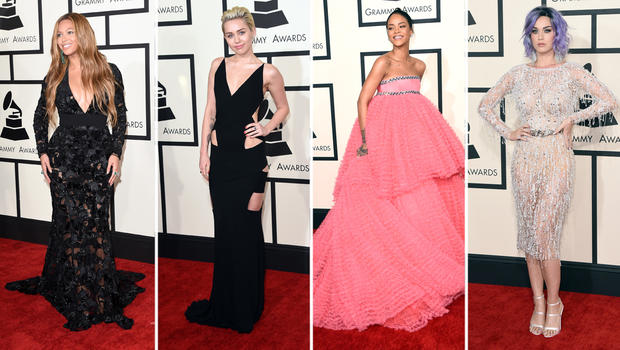 Must-See 2015 Grammy Awards Red Carpet Looks
The 2016 Grammy Awards will be held on February 15th and there is much anticipation to see what the biggest artists will be wearing. In the midst of award season, here is a recap of the must-see looks from the 2015 Grammy Awards!
click here to read more
Advertisement
Rapper Iggy Azalea postponed her wedding to fiance Nick Young until 2017. The "Fancy" star had been set to tie the knot with the basketball player at the end of this year, but Azalea has found herself too pushed for time as she works to complete her new album, Digital Distortion, and plan a tour.