Justin Bieber Involved in Fist Fight
Advertisement
In video footage obtained by TMZ, the singer can be seen exchanging blows with a mystery man before the spat is broken up. The 22-year-old has yet to comment on the incident and it is unknown if police officers are investigating. Bieber's altercation comes a month after he urged fans to stop asking him to pose for photos, stating he felt like a "zoo animal," but it is unclear if this has anything to do with the fight. "If you happen to see me out somewhere know that I'm not gonna take a picture I'm done taking pictures," he wrote on social media last month. He continued, "It has gotten to the point that people won't even say hi to me or recognize me as a human, I feel like a zoo animal, and I wanna (
sic
) be able to keep my sanity. "I realize people will be disappointed but I don't owe anybody a picture. and people who say 'but I bought ur (
sic
) album' know that you got my album and you got what you paid for AN ALBUM! It doesn't say in fine print whenever you see me you also get a photo." The post came after he was spotted sightseeing in Boston, Massachusetts, ahead of his Purpose tour dates in the city. He reportedly refused to take photos with fans who spotted him out and about.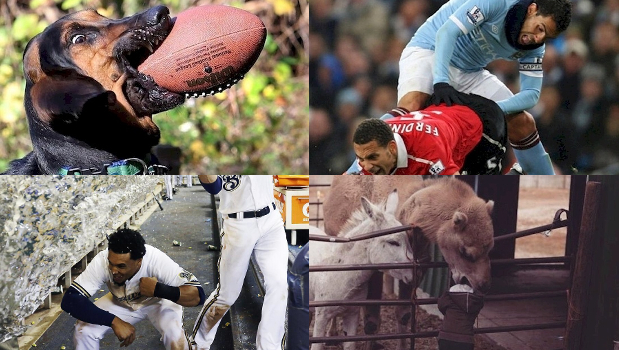 The 20 Most Perfectly Timed Photos Ever Taken
Timing is everything! Sometimes ordinary things are going on and yet the camera goes off. Suddenly, there's something unusual captured, like a boy having a butterfly eye or two football players seemingly in love. And other times there are just weird occurrences that happened to be frozen in time thanks to a…
click here to read more
Advertisement
Justin Bieber was reportedly involved in a fight with an unidentified man in Ohio on Wednesday. The "Baby" star was outside his hotel following a National Basketball Association championship game between the Cleveland Cavaliers and Golden State Warriors when he became involved in a fracas.