Kobe Bryant Given Star-Studded Send Off at Final Game
Sports
| |
Advertisement
Hundreds of avid fans of the 37-year-old player flooded into the venue to support him as he wore his Lakers vest for the final time, including celebrities such as Nicholson, Jay Z, Kanye West, David Beckham, Kendrick Lamar, Snoop Dogg, Adam Levine and wife Behati Prinsloo and The Weeknd. Prior to the game, a tribute video was played which featured many of Kobe's teammates old and new, including Odom. The footage marked the first time Odom has been seen speaking publicly since his health battle last year after being found unconscious in a Las Vegas brothel. Using his former teammate's middle name, Odom said in the video: "Bean what's up, it's your little brother L.O. Just want to tell you I love you. You got a great career. I'm proud to say that I was right there with you, Kobe Bean."
It's 1:36am after @kobebryant's final game, do you know where @SnoopDogg is? He's chillin' with Chick. #GoLakers pic.twitter.com/1zLuKx6K5x

— Los Angeles Lakers (@Lakers) April 14, 2016
Avid Lakers fan Nicholson also appeared in the video, saying: "You've been an inspiration to us all, and L.A. loves you." Kanye West paid tribute to Bryant in his own unique way, sporting a long-sleeved shirt which featured several words on the back, including the date of the sportsman's final game and "Lower Merion's finest" – a reference to Bryant's start in basketball at Lower Merion High School in Jersey. Jay Z posed for a snap with Kendrick Lamar and fellow rapper Schoolboy courtside before the game, which saw the Lakers take on the Utah Jazz.
What do Jack Nicholson, Taylor Swift and Lamar Odom all have in common?Each paid tribute to Kobe on Wednesday: https://t.co/kz9cSerpao

— Los Angeles Lakers (@Lakers) April 14, 2016
Those who couldn't attend the game but voiced their support for Bryant in his final game included U.S. President Barack Obama, who wrote on Twitter: "Big night of basketball – @Warriors chasing 73 and a farewell for an all-timer, @KobeBryant." Reese Witherspoon referenced Bryant's nickname "Black Mamba" by writing, "Who's gonna be watching @kobebryant tonight? #Icon #MambaDay #WeWillMissYou." David Beckham was present to watch the game, but also wrote some touching words on Instagram about Bryant alongside a snap of the pair together. He wrote, "Tonight will be full of emotions , happy ones & and sad ones but we celebrate the career of one the games greatest players and a true LAKER … It's been an honor watching this man win championships and to have done it in style just the way this city expects… Easier said than done… Congrats my friend on a career that many people dream of…. @lakers @kobebryant @lagalaxy."
Always great seeing my friend and @Lakers EVP, @JeanieBuss! #ThankYouKobe #MambaDay pic.twitter.com/G7eJ3Jv7Dq

— Earvin Magic Johnson (@MagicJohnson) April 14, 2016
Retired basketball player Magic Johnson also penned an open tribute letter to Bryant ahead of the game, writing: "You will join a legendary list of Laker greats and Hall of Famers. Their jerseys hang proudly from the rafters in Staples Center and soon yours will shine next to them; from Gail Goodrich, Jerry West, Elgin Baylor and Wilt Chamberlain to Kareem Abdul Jabbar, Jamaal Wilkes, James Worthy and Shaquille O'Neal. Very few people have changed the game of basketball but you will be recognized as one of them alongside my 'Dream Team' teammates, Larry Bird and Michael Jordan." Bryant once again showed his skills on the court on Wednesday night as he finished with 60 points, leading the Lakers to a 101-96 victory over the Jazz and earning a standing ovation from fans. Snoop was seen dancing, while Jay Z looked on in disbelief at Bryant's incredible performance, which saw Bryant almost single-handedly lead his team back from 10 points down with under two minutes to play. Speaking to fans after the game, Bryant said, "Man, I can't believe how fast 20 years went by… This has been absolutely beautiful." Bryant has been with the Los Angeles team since he was drafted into the NBA in 1996. His two-year deal with the team included a $25 million payout, making him the NBA's highest-paid player this season. He has helped win five NBA championships for the Lakers, is a 17-time All-Star, a 15-time member of the All-NBA Team, and is a two-time gold medalist from the 2008 and 2012 Summer Olympic Games.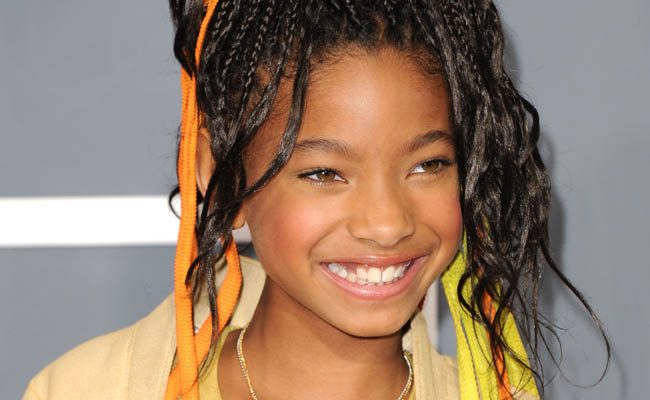 Using Just 1 Clue, Can You Guess These Celebrity Children?
click here to read more
Advertisement
Stars including Lamar Odom and Jack Nicholson featured in a tribute video for Kobe Bryant ahead of the sportsman's final game on Wednesday night before retiring from professional basketball. The American sporting legend played his final game for the Los Angeles Lakers at the city's Staples Center.