If You Have Trouble Keeping Your Plants Alive, This Is the Device You Need
Advertisement
So, what exactly is a hydroponic planter? The planter uses a water tank in the middle of the device rather than typical soil to grow the plants. The tank will automatically "distribute the liquid, keeping plants' roots wet without over-watering." The Calla also features a mini "mushroom-shaped LED light that can sense lighting conditions around it and adjust accordingly." The device basically creates a normal and natural light cycle that allows the plant to be placed anywhere in the house regardless of lighting. Up to six different plants can be grown in the Calla, such as
herbs
and flowers. The unit can also be used to keep store-bought
herbs
fresh. All you have to do to keep the plants fresh and growing is replace the water when it runs out. A sensor will alert the user when the water supply is running low. Depending on how many plants are in the unit, it can be left for up to two weeks. The Calla is currently being funded on
Kickstarter
, where it has already doubled its initial $30,000 goal.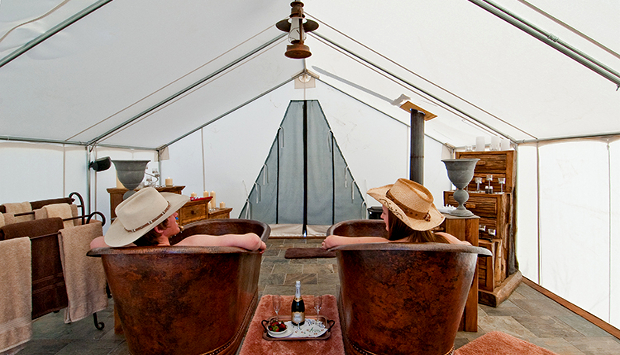 Gone Glamping! Images That Will Inspire You to Go Glamping This Summer
Camping usually involves bugs, tents, and the possibility of bears, but there's a new trend when it comes to camping this summer. Glamping is the glamorous way of bonding with nature, combining style and luxury with camping. Similar to regular camping, glamping allows you to feel at home while being…
click here to read more
Advertisement
Owning a plant isn't for everyone. Most plants seem like they will be super easy to care for, but just forgetting to water them for a few days leaves could leave them dried up and not so pretty. Thanks to a new device, caring for your houseplants just became a whole lot easier! Meet the Calla, a device that uses hydroponic technology and automated LED lights to keep plants fresh and healthy.