Padma Lakshmi Didn't Know Child's Paternity
Entertainment
| |
Advertisement
Model-turned-TV personality Padma Lakshmi initially kept her daughter's paternity a secret because she didn't know who the father was herself.
The Indian beauty, who was previously married to controversial author Salman Rushdie, fell pregnant with Krishna in 2009, while she was dating late billionaire Teddy Forstmann. However, she was unsure of her child's paternity because she had also been seeing businessman Adam Dell, brother of Dell computers founder Michael Dell. In her new memoir,
Love, Loss, & What We Ate
, Lakshmi insists she had been open about her love life with both men, and it wasn't until a few months into the pregnancy, after being hounded in the press, that she was able to have a DNA test to find out the results for herself. Lakshmi insists she has no regrets about her romances with both men, even though it may be frowned upon by modern society. "It probably wasn't the best choice, but it was the choice I made at the time," the 45-year-old told
The Today Show
. "I didn't want to be in a serious relationship, I was still really hurting from my divorce (from Rushdie). "I probably shouldn't have been with anybody, and just taken the time I needed for myself, but I was presented with two very different, very interesting men, and you know, men do it all the time. I chose to do it, I was open with the men involved, and I'm gonna own my history. That's what I did." During the
Today
S
how
interview, Lakshmi also discussed her three-year marriage with Rushdie, which ended in 2007, and she admits her struggles with her then-undiagnosed chronic gynaecological condition endometriosis put an added pressure on their relationship as it crumbled. "I was with Salman for eight years and at the time, that's half my adult life," she explained. "It was wonderful relationship, and like any marriage, it had its ups and downs, and I think also we were dealing with another issues, which I had no idea about at the time, which was endometriosis. "At the time, I really needed to take care of my health and I couldn't take care of my health and get well and also take care of my marriage, and I did the best I could. And… I think Salman did the best he could, and there was a lot of love there. It just didn't work out."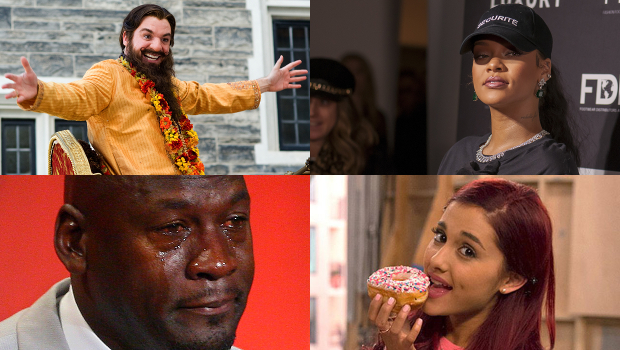 These 20 A-List Celebrities are Actually Real Jerks!
Celebrities...you either love 'em or you hate 'em! But what if we told you all these celebrities were actually jerks? You might wind up hating them, or perhaps hating them even more. From rich-as-hell cheapskates to seemingly-lovely scumbags, doing things from banning eye contact on production shoots to demanding a hostess bark like…
click here to read more
Advertisement