Pope Francis Washes and Kisses Feet of Muslim Migrants
Advertisement
"All of us together: Muslims, Hindus, Catholics, Copts, Evangelicals. But all brothers and children of the same God," the Pope
shared
. "We want to live together in peace." The foot washing re-created the "ritual Jesus performed on his apostles before being crucified," shared the
Independent
. Pope Francis has included non-Catholics and women in the "gesture of service" for many years now, provoking an angry debate within the community. During this year's ceremony, eight men and four women were honored in the foot washing ritual. "We have different cultures and religions, but we are brothers and we want to live in peace," Pope Francis recited. Many of the migrants could be seen with tears in their eyes while the gesture was being preformed. He "poured holy water on their feet, wiped them clean and kissed them."
During the Mass on Holy Thursday, Pope Francis addressed the recent terrorist attacks in Brussels explaining the terrorists "are manufacturers, arms dealers who want blood, not peace," reported the
Washington Post
. "You, we, all of us together, of different religions, different cultures, but children of the same Father, brothers — and there, those poor people, who buy weapons to wreck fraternity," Francis shared during Holy Thursday. "Today, at this time, when I do the same act of Jesus washing the feet of twelve of you, let us all make a gesture of brotherhood, and let us all say: 'We are different, we are different, we have different cultures and religions, but we are brothers and we want to live in peace.'" This isn't the first time Pope Francis has spoken out about immigration and the refugee crisis. In a
statement
earlier this year, he describes the migration as "a structural reality." "Migrants are our brothers and sisters in search of a better life, far away from poverty, hunger, exploitation and the unjust distribution of the planet's resources which are meant to be equitably shared by all," the Pope said.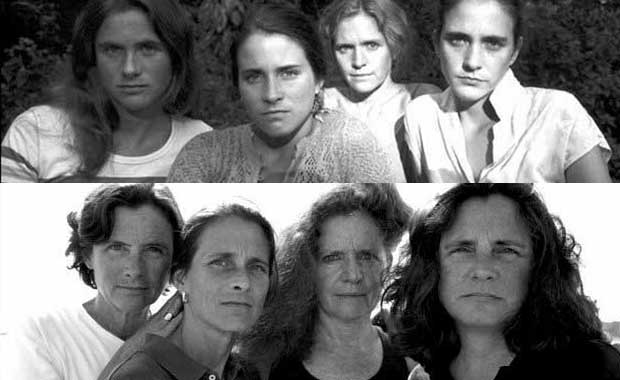 4 Sisters Beautifully Age in 40-Year Photo Series
When Nicholas Nixon was visiting his wife's family in the summer of 1975, he asked all four sisters - left to right: Heather, Mimi, BeBe, and Laurie - to stand together for a picture. A year later, at the graduation of one, the sisters lined up again in the same…
click here to read more
Advertisement
In an effort to bring different cultures together, Pope Francis washed and kissed the feet of 12 immigrants during Holy Thursday. The refugees were from Mali, Eritrea, Syria, and Pakistan with Catholic, Coptic Christian, Muslim, Hindu backgrounds. During the ceremony, the Pope recognized the recent terror attacks in Brussels as a "gesture of war." The ceremony took place during a Mass at a migrant reception center in Castelnuovo di Porto, just north of Rome. The center houses about 900 asylum-seekers.