President Obama Nominates Merrick Garland to Supreme Court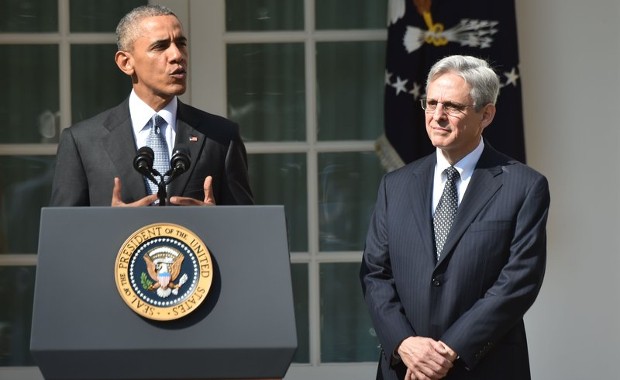 Wednesday morning, President Barack Obama announced his nomination for the new Supreme Court Justice, naming fellow Chicago-native Merrick Garland, 63, as his choice. Even though Republican leaders refuse to consider any and all nominations from President Obama, it's still a big honor for Garland.
Obama introduced him with a hefty 20-minute introduction from the White House Rose Garden, naming Merrick's accomplishments and why Obama feels he is the best fit for late Antonin Scalia's role. "In his 19 years on the D.C. Circuit, Judge Garland has brought his trademark diligence, compassion and unwavering regard for the rule of law to his work," Obama said in the speech below. He also asked Republicans in the senate "to give him a fair hearing" as Garland begins to meet with senators one-on-one. "If you don't," Obama warns, "then it will not only be an abdication of the senate's constitutional duty, it will indicate a process for nominating and confirming judges that is beyond repair." The president goes on to tell the senators that they need to do their jobs. "I have fulfilled my constitutional duty. Now, it's time for the senate to do theirs. Presidents do not stop working in the final year of their term, neither should a senator." After Garland's lengthy introduction, he takes the floor to say, "This is the greatest honor of my life, other than Lynn agreeing to marry me 28 years ago." Garland is currently the chief judge of the U.S. Court of Appeals for the D.C. Circuit and attended Harvard Law on a full scholarship. He is revered by both Democrats and Republicans and praised for his honest work. Check out Obama's speech below.
Obama's SCOTUS nominee: Merrick GarlandWho is Merrick Garland, the man Obama just picked as his Supreme Court nominee? Listen to the president's speech today, condensed into a few crucial minutes. "I have fulfilled my constitutional duty. Now it's time for the Senate to do theirs." http://lat.ms/1SSFzln Posted by Los Angeles Times on Wednesday, March 16, 2016