Prince 'Had Unreleased Music Locked in Vault'
Entertainment
| |
Advertisement
Over a week since his death, an archive in his home, called the Vault, has been drilled open by Bremer Bank, the Minnesota institution Prince trusted with his finances over the years,
People
reports. The late musician was the only one with the code to access the giant room filled with shelves and sealed with a large spinning wheel. Entertainment lawyer Donald David, who represented the estates of Tupac Shakur and TLC's Lisa 'Left Eye' Lopez after their deaths, told
People
that the discovery of Prince's unreleased music is very important. "I know from my past experience that very often some of that material needs significant editing," he said. "Some of it can be used, some of it can't be used. "But you're going to see unreleased Prince albums – if it is properly managed – for the next two decades. As long as the estate is well-managed – and they don't go for a quick hit by doing something like selling his publishing rights – it will produce income into (what would have been) his great-grandchildren's years without any problems," he added. An autopsy was performed last week on the "Kiss" hitmaker, but the cause of death is pending further test results. His body was cremated on April 23, after which a private memorial service was held at his Paisley Park home.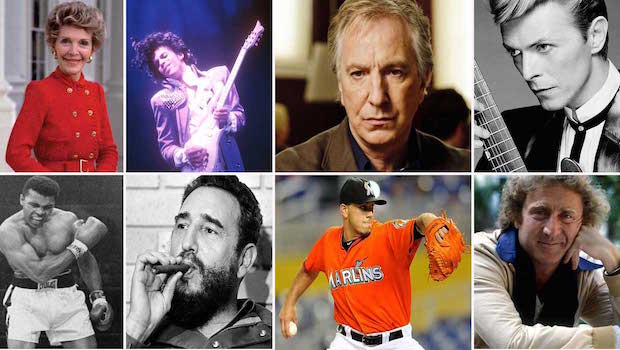 Notable Celebrity Deaths of 2016
While death is a natural part of life, it seems like 2016 has seen an abnormally high amount of notable deaths. From politicians and athletes to actors and musicians, it wouldn't be a stretch to say that this year has seen some of the most famous individuals on the planet…
click here to read more
Advertisement
Prince is reported to have an extensive collection of unreleased music locked away in his studios. The "Purple Rain" icon was found unresponsive in an elevator at his Paisley Park Studios estate in Chanhassen, Minnesota, on April 21, and was subsequently pronounced dead at the age of 57.