Prince's Cause of Death Remains a Mystery Pending Further Tests
Entertainment
| |
Advertisement
A post-mortem examination was carried out by the Midwest medical examiner on Friday, and shortly after its completion, officials in Carver County held their first press conference in the case. Sheriff Jim Olsen opened the news update by urging the media to "respect" the singer's privacy as he and his colleagues continue to investigate the circumstances surrounding the 57-year-old's death. "This is a tragedy for all of us," he began. "To you, Prince Rogers Nelson was a celebrity; to us, he's a community member and a good neighbor. To his family, he's a loved one. "In life, he was a very private person. We're gonna continue to respect his privacy and his dignity and hope that you do as well…" Sheriff Olsen then revealed there were "no obvious signs of trauma" on Prince's body, and declared they were not looking into his death as a suicide. However, he declined to officially rule out foul play. "We have no reason to believe it was a suicide, the rest of it is under investigation," he explained, stressing the case was only "29-hours-old." Criminal investigators took over Prince's home on Thursday to examine the death scene and Paisley Park's maze of rooms and studios, but the sheriff insisted their involvement was routine, as Prince's passing was an "unwitnessed death." He also shared that the Purple Rain hitmaker had last been seen at 8 p.m. local time on Wednesday, when he had been dropped off at home. He was found the following morning by staff members who had been "unable to contact" the star. "Prince is a very private person and I don't think that would be unusual for him to be there (at Paisley Park) by himself," he added. A representative for the medical examiner's office then told the media Prince's body had been released to his family following a four-hour autopsy. No cause of death was announced at the press conference, with the spokeswoman insisting further testing, including toxicology reports, would take "days and weeks to complete." The sheriff also refused to share information linked to reports suggesting Prince had suffered an overdose of painkiller Percocet last week. The medical emergency prompted the pilot of his private jet to make an emergency landing in Moline, Illinois as the superstar flew home from a gig in Georgia. The medical examiner's press officer was also asked if there were any signs of a drug overdose during the autopsy, to which she responded, "(There is) no information at this time." Following Prince's health emergency on April 15, his publicist claimed the singer had been briefly hospitalized and treated for the flu and was released to continue his recovery at home.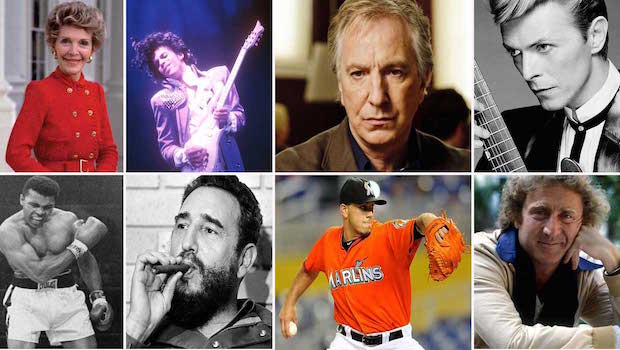 Notable Celebrity Deaths of 2016
While death is a natural part of life, it seems like 2016 has seen an abnormally high amount of notable deaths. From politicians and athletes to actors and musicians, it wouldn't be a stretch to say that this year has seen some of the most famous individuals on the planet…
click here to read more
Advertisement
A cause of death for Prince remains "pending" following the completion of an initial autopsy on Friday. The superstar was found unresponsive in an elevator at his Paisley Park estate in Minnesota on Thursday morning, and he was subsequently pronounced dead at 10:07 a.m. local time by paramedics.