Prince's Ex-Wives Unite to Host Star-Studded Memorial
Celebrity
| |
Advertisement
Lee shared a snap of the purple hat and sneakers he sported for the occasion, in honor of the "Purple Rain" legend. "Purple Beret And Purple Kobe's For Prince Memorial Tonight in El LAY (
sic
)," he captioned the picture on Instagram. A source told
E! News
that Testolini and Garcia "wanted to have a somber memorial since they weren't allowed at the other one." Garcia was married to Prince between 1996 and 1999, while Testolini's marriage to the icon lasted from 2001 to 2006. The top secret event was attended only by those closest to Prince, with the invitation for the event simply stating the time and "Beverly Hills" as the location, according to TMZ. News of the memorial comes after Prince's family members released a statement last week insisting that there has yet to be an official occasion of remembrance for the singer. "We would like everyone to know that, contrary to previous and current reports, there has been no memorial, funeral or tribute service for Prince that was organized or authorized by the family or Paisley Park representatives," the statement read. "Together, the family is planning an official memorial service and public event to take place in the near future. Prince and his music influenced so many people that we feel inspired to celebrate his life and legacy in just the right way. We appreciate the public's patience and have been comforted by your outpouring of love, support and condolences. We look forward to sharing with the world this celebration of, and farewell to, our Prince." It was recently revealed that police in Minnesota have obtained a warrant to search the North Memorial Medical Center, where Prince's doctor works. Dr. Michael Todd Schulenberg reportedly wrote the tragic music icon prescriptions and was present at his Paisley Park home when the singer died. The cops' warrant requests all medical records, reports, prescriptions, and medical notes for Prince Rogers Nelson, the late superstar's full name.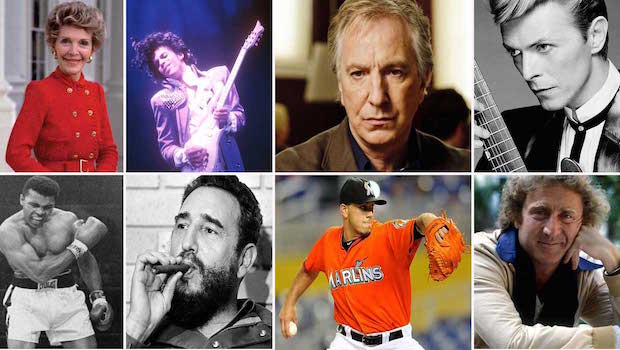 Notable Celebrity Deaths of 2016
While death is a natural part of life, it seems like 2016 has seen an abnormally high amount of notable deaths. From politicians and athletes to actors and musicians, it wouldn't be a stretch to say that this year has seen some of the most famous individuals on the planet…
click here to read more
Advertisement
Prince's two ex-wives hosted a star-studded memorial for the late singer in Los Angeles on Wednesday night. Manuela Testolini and Mayte Garcia united for the Beverly Hills memorial, where celebrity guests including Dita Von Teese, Spike Lee, Herbie Hancock and Tavis Smiley remembered the beloved star, who died in April aged 57.