Seth Meyers Reveals Sweet Sentiment Behind Son's Name
Entertainment
| |
Advertisement
Saturday Night Live
star-turned-late night talk show host and his wife welcomed their new arrival on Sunday. Meyers, 42, opened up about the birth during his show,
Late Night With Seth Meyers
, on Tuesday and revealed the tot's moniker to the audience.
The name is made up of Alexi's maiden name Ashe and his mother's maiden name Olsen. But Myers joked: "A couple people have said, 'Do you think people will think you named (him) after Ashley Olsen?' And to them I have said, 'No one will think that, because I've long been a Mary-Kate guy!'" Meyers also revealed his wife's due date wasn't for another two weeks, so it was something of a shock when she went into labor on Sunday. It was just a normal day for the pair before Alexi's contractions began. "The baby came two weeks early so we really weren't expecting this to happen," he said. "We had gone out to brunch, we had walked home from brunch, we were sitting around the apartment and getting ready to go and see a play at 2 o clock on Sunday and basically around 11.30 to 12 my wife would say every 10 minutes that her back hurt. I would go and rub her back but I'm bad at recognizing patterns because otherwise I would have known they were contractions…" After downloading a contractions app, Meyers realized things were speeding up quickly and took Alexi into the hospital for the birth. Their journey wasn't without drama though, and the comedian laughed that their Uber cab driver was somewhat overwhelmed by the sight of Alexi on all fours in the back of his car, screaming through the open window "I don't like this!" Once at the hospital, things happened quickly and the enormity of the moment wasn't lost on Meyers, who reacted to it in a somewhat unusual way. "I couldn't stop laughing!" he told the audience. "One because half the people in the room were wearing bunny ears (it was Easter Sunday) and two because I was thinking back to all the people asking us if we were prepared for this." When Ashe finally made his entrance though, Meyers "got into laughing and sobbing at the same time!" Becoming a father is taking a while to get his head around as well, with Meyers admitting: "The weirdest thing is that you're not a parent and then you are and your brain takes a while to catch up."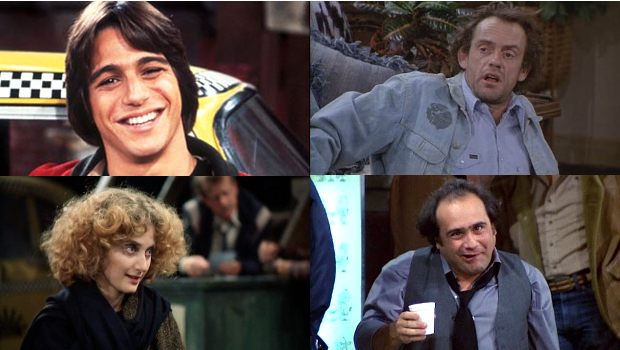 See the Cast of 'Taxi' Then and Now
The ensemble cast of Taxi made audiences laugh every week from 1978 to 1983. In the process, Taxi turned all of its actors into stars. What happened to them? Where are they now? Find out right here.
click here to read more
Advertisement
Seth Meyers' newborn son is called Ashe Olsen Meyers. The