Stars React as Hillary Clinton Becomes First Female to Lead Major Party Ticket in US
Advertisement
Taking to the stage to thank her supporters after beating Bernie Sanders to become the nominee, Clinton said: "Tonight caps an amazing journey – a long, long journey." "It may be hard to see tonight but we are all standing under a glass ceiling right now. But don't worry. We're not smashing this one. Thanks to you, we've reached a milestone. The first time in our nation's history that a woman will be a major party's nominee." Clinton has had a host of celebrity supporters since the beginning of her campaign, and Perry was quick to send a tweet reaffirming her support of the politician. "A lot of little girls are in bed right now dreaming for the first time, without limits. You broke the mold @HillaryClinton," Perry wrote. Christina Aguilera added in her tweet, "Proud to support @HilaryClinton! She's making history not for herself but for women everywhere!" Legendary singer Cher sent her congratulations in her own unique way writing on Twitter: "WHEN I was young, Didn't Think woman COULD B PRESIDENT, THOUGHT IT WAS AGAINST LAW. LAST NITE I CALLED HILL 'MY PRESIDENT' I THINK I'M 1ST 1. (
sic
)"
WHEN I was young,Didn't Think woman COULD B PRESIDENT‼️
THOUGHT IT WAS AGAINST LAW‼️LAST NITE I CALLED HILL"MY PRESIDENT"
I THINK I'M 1ST 1?

— Cher (@cher) June 8, 2016
Kick-Ass
actress Chloe Grace Moretz has also been a very active supporter of Clinton, even joining her on the campaign trail. Clearly emotional after her victory, Moretz wrote: "To live a day in which my first vote is for a female democratic nominee to become our PRESIDENT of the United States." Chat show host Ellen DeGeneres tweeted, "I've never been prouder to have a woman card. @HillaryClinton," while newlywed Eva Longoria wrote, "Congrats @HillaryClinton on becoming the first female nominee of any major party in the US! #HistoryMade #ImWithHer."
I've never been prouder to have a woman card. @HillaryClinton

— Ellen DeGeneres (@TheEllenShow) June 8, 2016
Actress Jaime King marked the occasion with her two-year-old son James, high-fiving the television as Clinton spoke. She captioned the video clip: "I cannot contain my depth of gratitude, experiencing #HistoryMade w/ my son & ALL @HillaryClinton #ImWithHer #4EVER."
Frozen
star Josh Gad joined King in marking the historic occasion, tweeting: "Regardless of where you stand politically, tonight is a very special night for women in this country. 240 years later, it's about time." Singer Jojo kept things simple by just writing "HERSTORY," while former
The Mysteries of Laura
star Debra Messing posted a snap on Twitter writing: "Sharing HISTORY with my son. So so meaningful. @HillaryClinton #SheDidIt." Actress turned director Elizabeth Banks tweeted: "Very emotional about @HillaryClinton securing nomination – historic moment for American Women. #HistoryMade #ImWithHer #mostqualified." And Mia Farrow added: "Excellent speech superbly delivered. Surprised to find myself so moved by this enormous, historical moment."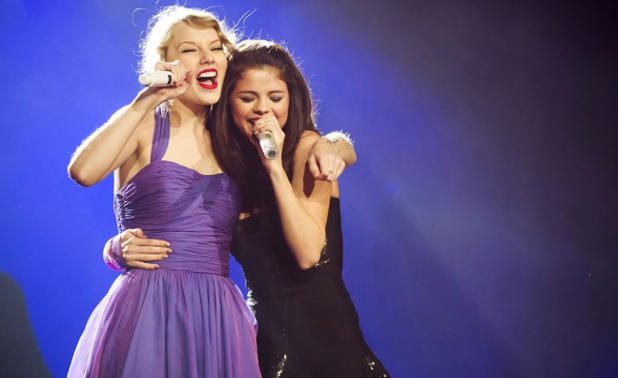 Celebrities Who Are Best Friends in Real Life
We often see a lot of celebrities mingle and have fun, but are they really friends? Here are the celebrities who are truly friends in real life!
click here to read more
Advertisement
Katy Perry praised Hillary Clinton for "breaking the mold" after the politician became the Democratic nominee for president on Tuesday night. The "Roar" singer was just one of the famous faces who took to the internet to share her congratulations after Clinton made history by becoming the first woman to land a major political party's nomination in the 240-year history of the United States.