Tinder Date Going Bad? There's a Bar for That
Advertisement
"Tinder date gone wrong?" the signs says. "Doesn't look like his picture, or just plain weird?" The sign suggests looking for "Rachel or Jennifer," seemingly made up employees, at the bar. "And we'll get you out of it and/or get you a taxi," the sign concluded. The sign also stated that the safety and happiness of its' customers are the bar's highest priority. The infamous sign has been shared on Imgur where over 67,000 people saw it. You can check out the photo below.
View post on imgur.com
Many people applauded the sign, including
The St Albans Women's Equality Party
. Many people have also suggested that the sign should be posted in the men's bathroom. So ladies, if you are on a date at The Brickyard and it's not going well, you'll know that you've got some concerned bystanders ready to help you out.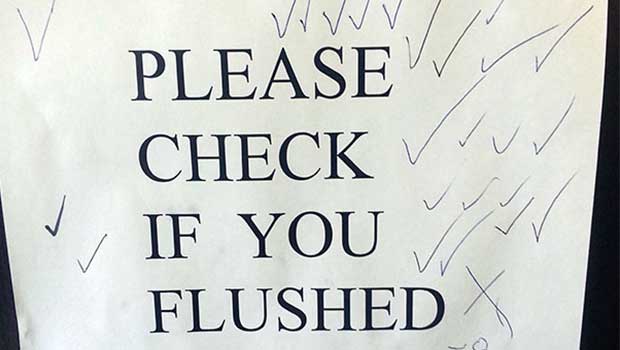 Passive Aggressive Office Notes That Are Too Funny to Ignore
When you really think about it, you probably spend more time with your co-workers than most of your friends and family. With all of that time spent together every single week, you are bound to get on each other's nerves. Problems spring up all of the time in an office:…
click here to read more
Advertisement
On a blind date and it's not going so well? Well, ladies, this bar got your back. The Brickyard bar, which is located in St. Albans, England, posted a sign in the women's bathroom that tells them how to get out of a bad date.