Trucker Dad Puts New Spin on Taking His Daughter to Work by Taking His Daughter's Doll
Advertisement
"Last night, Joselyn our 9 yr old daughter asked if I would babysit 'Abbie' for her today
(sic).
'She really wants to go trucking with her Grandpa.' This morning before I leave, she reminds me I'm babysitting today. Well being the good "Grandpa" I agree to take her
(sic),"
McCain wrote on Facebook. McCain posted the pictures to Facebook where they were quick to go viral. McCain's daughter left strict instructions for Abbie's day out. Together they loaded the wheat from the farm, took a snack break, and even played in the wheat. "We decided to have a little fun and post pictures of our travels," he shared. Great-grandpa McCain even got in on the action and got a chance to hang out with Abbie. Overall, Abbie and Grandpa McCain had a pretty good day. Check out all of the pictures from the grand adventure below!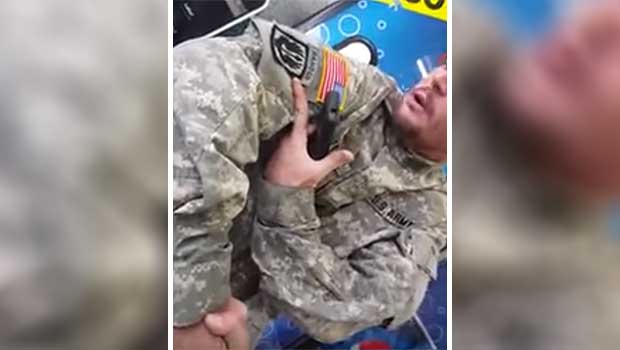 Watch Imposters Get Owned in These Jawdropping 'Stolen Valor' Videos
"Stolen valor" is a term used to describe those who fraudulently wear military uniforms and/or medals, or claim service they didn't give. Over the long history of warfare, impersonation of military men and women has been a hot-button issue. Whether it's civilians fabricating military records, or actual servicemen embellishing their accomplishments, "stolen…
click here to read more
Advertisement
This dad from Colby, Kansas just gave "take your daughter to work day" a whole new meaning. Trent McCain, who owns and operates McCain Trucking and Harvesting, took his daughter's doll Abbie to work after his daughter Joeslyn said her doll wanted to spend the day with him.